Let the Celebration Continue!
Capture the beauty, color, and awe with these beautiful flower choices for your landscape!
Like a canvas and a brush – a garden and perfectly chosen flowers are the inspiration to artists and gardeners alike.  Inspired by watching the big, beautiful, colorful "blooms" of this years fireworks, we have found some flowers that perfectly capture the color explosion and bursts of light that will make any garden shimmer.

Aster
Aster comes in many varieties and colors, and are very popular garden plants because of their attractive and colorful flowers that can be white, red, pink, purple, lavender and blue – mostly with yellow centers.  Asters provide an invaluable hardy border, adding superb color in the autumn.  Asters are attractive to all pollinators, including butterflies.  They require full sun, good air circulation and moist soil.  They make excellent cut (and dried) floral arrangements.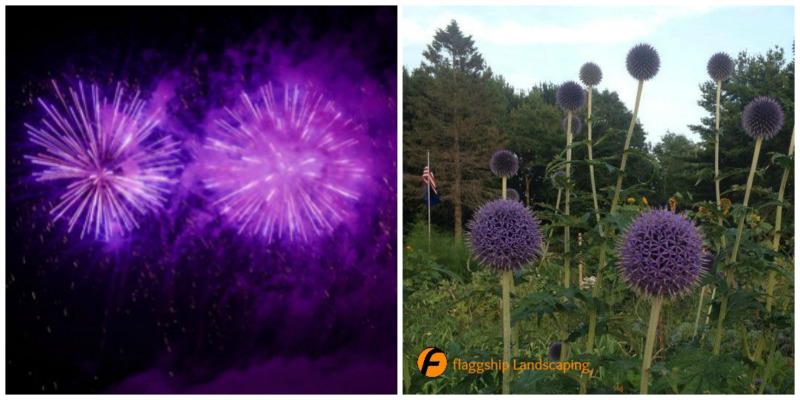 Alliums
Alliums are actually part of the onion, scallion, leeks and garlic family.  They come in a variety of colors such as blue, red, white, purple and yellow.  Planted in the fall, these hardy plants will delight year after year, and provide color all season.  The best thing about allium is most animals, especially deer find them unappealing, so they make nice borders for vegetable gardens.

Spider Mums
If you are looking for a perennial plant that produces beautiful flowers late in the growing season, spider mums make an excellent choice  Spider mums are part of the daisy family of plants, which also includes zinnias and marigolds.  They are hardy, and prefer 4-6 hours of sunlight a day.
Want to design a garden that captures the colors, wonderment and joy of fireworks celebration?  Contact our office today to schedule a no-obligation consultation!  We strive to design a landscape that will have you and your neighbors oohing and ahhing!
Contact Us for a Complementary Landscape Consultation!